Goldie Khera BSc (Hons), MBChB, MRCS, FRCS, Consultant General, Brighton and Sussex University Hospital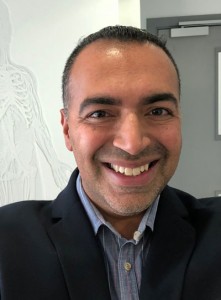 Goldie Khera - a consultant general, laparoscopic and bariatric surgeon with an interest in trauma and emergency surgery - was appointed in 2012 to Brighton and Sussex University Hospital (BSUH).
Every four weeks he is the emergency and trauma surgeon on call; operating upon and managing patients with potentially life threatening multi organ injuries as part of a fantastic trauma team at BSUH.
Goldie has been a doctor for 20 years, graduating from Liverpool Medical School in 1998. During medical school he researched pain producing substances utilising microdialysis. He completed his surgical training in the Mersey Deanery.
He also spent a year as a surgical registrar with the Queensland Trauma Registry, researching major trauma survivors and honing his laparoscopic surgical (as well as surfing) skills in Brisbane Australia. He is past president of the Association of Surgeons in Training (ASiT 2011-2012), the largest UK and Eire training society for all surgical specialties trainees.
He was also shortlisted for astronaut training interview by the European Space Agency (ESA) Hamburg, Germany in 2008.
Presentation: Cycle helmets - Nerdy or Necessary?
This presentation will examine the anecdotal and scientific evidence and new technology behind cycle helmet utilisation in the UK. From the perspective of a consultant trauma, emergency and general surgeon who is also a keen cyclist himself.