'Speak Out'
Vicky Harvey, Road Safety Team Leader, Kent County Council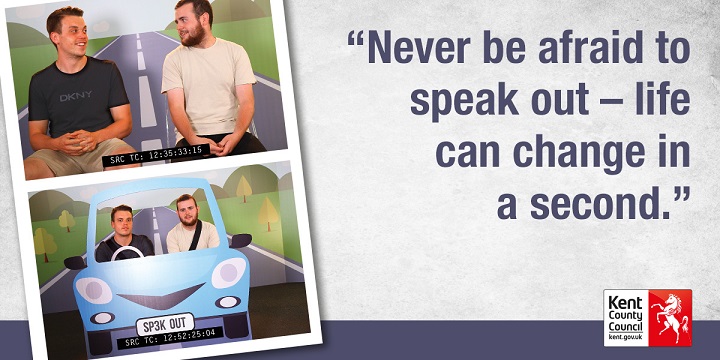 'Speak Out' is a multi-channel campaign featuring films of real friends talking about friendship and trust and translating this into the confidence to 'Speak Out' in an in-car situation where they feel unsafe. The films give the audience pre-programmed coping strategies to draw on and builds confidence to use them. 
Independent post-campaign evaluation indicates that all of the campaign aims were exceeded:
75% would say something if concerned by a driver's behaviour (target at least 50%)
83% could recall at least one coping strategy (target 60%)
77% of drivers positively changed their behaviour or had their behaviour positively reinforced (target 75%)
44% recalled the campaign
87% of drivers indicated that they would Speak Out if concerned by a passenger's behaviour (up 9% on baseline)
75% say it would make them think about their driving behaviour
Speak Out won two categories – Best New scheme and Best Media Campaign - at the 2018 FirstCar Young Driver Road Safety Awards in April 2018.
Presenter: Vicky Harvey, Road Safety Team Leader, Kent County Council
Vicky has worked in the Kent County Council road safety team since 2009. In that time she has been involved in a range of education, training and publicity interventions across all age groups and road user types. She leads the team through the process of clear objective setting, creating interventions and measuring outcomes.
Evaluation is especially important to Vicky and she promotes the need 'To first do no harm' and then to measure awareness, knowledge  and behaviours as indicators of effectiveness in addition to the use of casualty data.