Biker Down – the next steps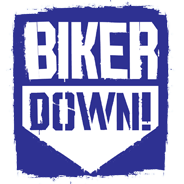 The Biker Down story follows the journey of a small, one man initiative, being delivered at one fire station, through to it becoming a national road safety programme being delivered by over 24 Fire Services and the Armed Forces - and which has become the official First Aid module in the DVSA's 'Enhanced Rider Scheme'.
Collaboration between Doc Bike, Biker Down and Video Biker (an online training resource for motorcyclists) - with support and backing from the National Fire Chiefs' Council - sees the next step in its evolution: a national website, shared by all agencies and allowing easy access to locate a course and contact a team.
One site where a truly joined up approach from all stakeholders can be demonstrated and clear messages delivered. A site which will provide a clear and common sense link for members of the biking public along the 'road of personal development' -including Doc Bike, Biker Down, Advanced Training through IAM RoadSmart and the Enhanced Rider Scheme.
This presentation will set out to demonstrate the huge advantages of effective inter-service collaboration and show the audience just what can be achieved if we work together effectively.
Crew Manager Jim Sanderson, Kent Fire & Rescue Service Road Safety Team
Jim Sanderson has been a firefighter with Kent Fire & Rescue Service for the past 19 years, and a motorcyclist for 26 years.
He is the founder of Biker Down, an IAM RoadSmart National Observer and Master, a DSA Approved Motorcycling Instructor and has completed the Road Safety GB Academy Foundation Course.
Jim is very passionate about the power of collegiality and partnership working and believes there are huge advantages to be gained through effective inter-service collaboration.