Education on a shoestring
With ever decreasing funding and staffing levels we have had to find new ways of working and delivering road safety education. School curriculums have become more and more crowded and it is extremely difficult to gain time to deliver key road safety messages. This presentation covers a quick and easy initiative that has been successfully delivered to infant and junior schools across Lancashire.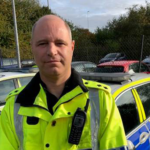 Presenter: Inspector Andy Trotter, Lancashire Constabulary
Andy Trotter is an Inspector with Lancashire Constabulary's Roads Policing Unit. He has been in the police for 24 years, with a career covering public order, firearms and roads policing.
For the last seven years Andy has had responsibility for overseeing the investigation of all fatal, life threatening and life changing road traffic collisions in Lancashire. He also has responsibility for partnership work around the road safety agenda, working with local authorities, other emergency services and voluntary organisations.