Rhiannon Leeds, Coordinator, Lancashire Road Safety Partnership & Inspector Andy Trotter, Lancashire Constabulary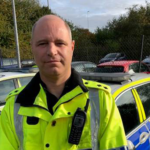 Andy Trotter is an Inspector with Lancashire Constabulary's Roads Policing Unit. He has been in the police for 25 years, with a career covering public order, firearms and roads policing.
For the last eight years Andy has had responsibility for overseeing the investigation of all fatal, life threatening and life changing road traffic collisions in Lancashire.
He also has responsibility for partnership work around the road safety agenda, working with local authorities, other emergency services and voluntary organisations.
Presentation: 'One stop shop' for speed concerns
Lancashire Road Safety Partnership (LRSP) has spent 18 months developing an online system as a 'one stop shop' for speed concerns. Historically anyone concerned about speeding issues would probably have to write to up to five agencies - and receive five different answers. There was also a tendancy to favour 'he who shouts the loudest' and 'VIPS'.
LRSP worked very closely with partners to deliver two main objectives through this project:
To ensure a clear policy on decision making, and consistent outcomes
A much quicker, fairer response to any concerns raised
The workload for all partners involved has reduced dramatically and previously duplication of work has been eliminated.
This presentation will demonstrate the policy and system - and discuss through the benefits (and problems) of working so closely with partners.