ANPR – Education disguised as enforcement
Many rural areas have issues with drivers speeding through their community. They also feel neglected by the police and that more needs to be done to tackle this issue. Unfortunately, the solution isn't as simple as just increasing speed enforcement. Police and the courts are already working at maximum capacity. The solution? Education that feels like enforcement.
In this session, Jon Shaw will explain how using ANPR technology he has managed to increase the rates at which speeding drivers are caught in Suffolk without putting additional stress on the police and courts through prosecutions.
---
Jonathan Shaw, Road Safety/ANPR Officer, Suffolk County Council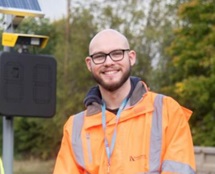 Jon has been working in road safety education since 2019. He also volunteers as a Special Constable for Suffolk Constabulary which he has been doing since 2015.
In his career in both the police and as a road safety professional, he has worked with a range of different people throughout Suffolk promoting safer uses of the roads.
In 2020, he was seconded to set up and run a first of its kind project using Automatic Numberplate Recognition (ANPR) technology to tackle speeding issues in rural areas.
---