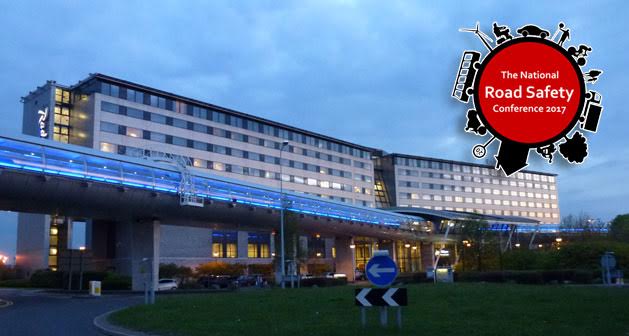 The 75 early-bird tickets for the 2017 National Road Safety Conference were snapped within 48 hours of delegate registration opening.
When officially launching the conference last Tuesday (7 Feb), Road Safety GB announced the first 50 Road Safety GB and Academy members who registered would receive a reduced rate – a number that was extended to 75 due to high demand.
To date, 10 organisations have already booked to participate in the exhibition which runs alongside the conference.
First staged in 2008, the National Road Safety Conference is Road Safety GB's flagship event. The 2017 conference will take place at the Radisson Blu Hotel, Manchester Airport on 14-15 November.
In a break from tradition, the 2017 conference will be organised by a committee drawn from Road Safety GB North West, North East and Yorkshire & Humber regions, rather than a single regional team.
The 360-bed Radisson Blu Hotel Manchester Airport is linked directly to Manchester Airport, an international transport hub. It is also linked to the airport's train and metrolink stations, and located just off the M56 Motorway.
The conference team is in the early stages of planning the agenda for the 2017 conference, with themes under consideration including:
Public health, sustainability, active travel & road safety casualty reduction
Partnership working, overcoming barriers, making the initial approach etc
Sharing intelligence, data, resources, budgets, funding etc
Encouraging more people to cycle and walk (for health and environmental benefits) while recognising the increased road casualty risk (and addressing this)
Behavioural Change Techniques (BCTs)
What are BCTs?
How can BCTs be deployed in road safety interventions?
Case studies of interventions featuring BCTs
Driverless cars: a Utopian dream or road safety nightmare?
There will also be a 'Topical Topics' session, the ever-popular Question Time and a Fringe programme running in tandem with the main agenda. 'Pick my brains', which was successfully piloted at the 2016 conference, will be repeated this year.
Delegate registration
The delegate fee for Road Safety GB and Academy members is £325 plus VAT (non-members £425 plus VAT), which includes accommodation, all refreshments, the conference dinner and all conference sessions.
There are also day delegate places available from £95 for members and £165 for non members (both prices plus VAT).
Click here to book a place to attend the conference.
The exhibition which runs alongside the conference is now also open for bookings. The exhibition will be restricted to around 20 stands and is once again expected to be fully subscribed (as has been the case for the past seven years). Click here for more information on the pricing structure or to book a stand at the exhibition.
For more information please contact Sally Bartrum (delegate registration and exhibition) or Nick Rawlings (agenda and speakers) on 01379 650112.