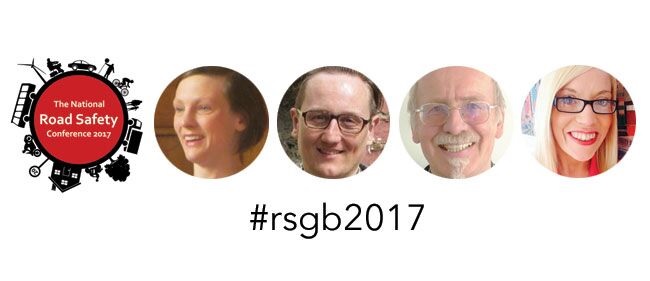 The line-up for the 'public health and active travel' session of the 2017 National Road Safety Conference is complete with five speakers set to participate.
Dr Rachel Aldred (University of Westminster), Claire Postin (Transport for West Midlands) and Paul Robinson (Bikeability Trust) have been confirmed to present as part of the session, which also features Dr James Woodcock (University of Cambridge) and Patrick Lingwood (Bedford Borough Council).
The session will focus on the issue of encouraging more people to cycle and walk for health and environmental benefits, while while recognising and addressing the increased road casualty risk this will present.
The 2017 National Conference, Road Safety GB's flagship annual event, will take place at the Radisson Blu Hotel, Manchester Airport on 14-15 November. The event is co-sponsored by Colas, Jenoptik Traffic Solutions UK and Insure The Box.
While the rest of the agenda is still under development, today's announcement means the line-up for public health session is now complete.
---
Dr Rachel Aldred, reader in transport at the University of Westminster
Dr Rachel Aldred joined the University of Westminster in September 2012 from the University of East London, where she lectured in sociology. Dr Aldred is interested in sustainable mobilities and in cycling in particular, and has published widely in this area.
Presentation: Why near misses matter: from research to policy and practice
Dr Aldred will talk about her pioneering 'Near Miss Project' and its lessons for practice. This award-winning research ran for two years and revealed that regular cyclists in the UK experience a 'very scary' incident on around a weekly basis.
Rachel will outline the project and its findings, and its implications for changes to policy and practice. This includes the 'Give Space, Be Space' campaign which is being utilised by an increasing number of police forces, and potential changes to road infrastructure, safety education and publicity.
---
Claire Postin, sustainable transport manager, Transport for West Midlands
Claire has more than 15 years' experience in safer and sustainable travel within local government.
Starting out as a trainee road safety officer at Sandwell Council back when hedgehogs were the popular mascot, Claire has worked in a variety of roles and is currently sustainable travel manager at Transport for West Midlands (TfWM) with a particular interest in making it safer to cycle and walk.
Presentation: Bostin Bikes and Bostin Commuter: enabling bike ownership and increasing cycling
Bostin Bikes was a Transport for West Midlands (TfWM) LSTF funded pilot project aimed at removing the barrier of non-bike ownership and increasing the number of people completing on-road cycle training.
100% of participants completed both Level 1 and 2 national standard cycle training and 60% went on to complete further training including maintenance and level 3 cycle training.
---
Paul Robison – Bikeability Trust
Paul Robinson's presentation will briefly explain how Bikeability works, before focusing on what evidence there is to show that it achieves the outcomes it aims to (more cycling and safer cycling), and how it is funded and delivered.
It will also cover the roles of various organisations involved with Bikeability, including The Bikeability Trust, and the future direction of the programme.
– See more at: http://www.roadsafetygb.org.uk/news/5771.html#sthash.CucHht8L.dpuf