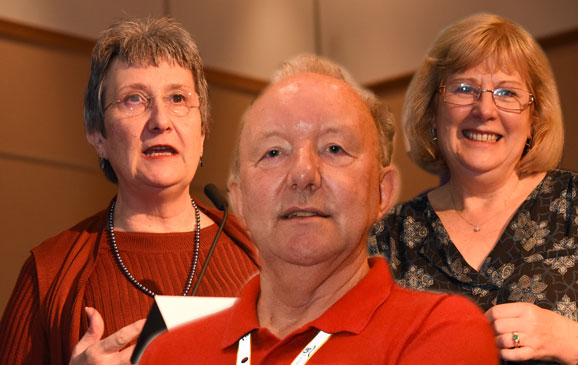 Three experienced and long-serving practitioners have each received a 2016 Lynda Chalker Award in recognition of their respective contributions to improving road safety.
Rob Tillier, Linda Kennedy and Tina Housego have received the accolade, which is awarded by Road Safety GB to individuals and organisations that have made a significant contribution to road safety in the UK.
The trio were presented with their awards by the new Road Safety GB chair, Sonya Hurt, at the end of day one of the 2016 National Road Safety Conference in Bristol (15-16 Nov).
Lynda Chalker (now the Baroness Chalker of Wallasey), who was transport minister in the mid-1980s, presented LARSOA (now Road Safety GB) with a carriage clock to be used for the Award when she moved to a new post in overseas development.
Lynda Chalker Awards are not presented every year – only when it is deemed appropriate. Last year two awards were made – to Graham Compton and Ian Edwards – but prior to that there had been no awards since 2012.
Rob Tillier of Accelerate Driver Training (above centre), received the award in recognition of his efforts to improve the safety of young and novice drivers.   Accelerate Driver Training provides a 'unique and exceptional approach to driving instruction' which is described as 'changing the face of driving instruction in the UK'.   Sonya Hurt said: "Rob has worked tirelessly, mostly as a volunteer, to influence young driver safety with a programme of events reaching a significant amount of students. He continually instills excellence in practical driving skills and provides a significant contribution to young driver safety."
The second award was presented to Linda Kennedy (right), who has been a local authority road safety professional in the north east of England for 45 years, having spent 33 years with Northumberland and 12 years with Durham County Council.
Recognised for her 'extremely dedicated' service, Linda's work has covered a multitude of road safety disciplines including implementation of the national driver offender rehabilitation scheme.
Sonya Hurt said: "Thanks to her tenacity the first drug drive campaign was held in the UK which created the platform for future campaigns. She has clearly demonstrated she is both innovative and passionate about road safety."
The final award was presented to Tina Housego (left), road safety officer at Bracknell Forest Council, in recognition of her enormous commitment to road safety and the significant role she has played in the development of many fellow road safety professionals.
Following a career in the Metropolitan Police Service, Tina spent more than 15 years in road safety, both in the private and public sectors.
She became Bracknell's RSO  in August 2008 and since then has also worked with the Safer Roads Berkshire partnership and was involved in setting up Safe Drive Stay Alive – a programme that has now reached more than 150,000 young people in the Thames Valley region.
Sonya Hurt said: "Tina has shown an enormous commitment to road safety and the development of many professionals. She has shown creativity in designing educational resources and an outstanding commitment to partnership working."