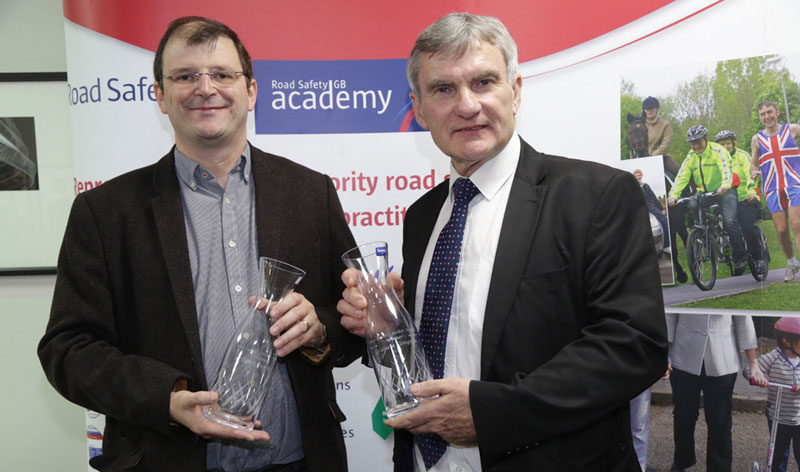 Two experienced and long serving practitioners were recognised for their contributions to road safety at the National Road Safety Conference in Nottingham last week (18-19 Nov).
Ian Edwards (left in pic) and Graham Compton were both presented with a Lynda Chalker Award, which is awarded by Road Safety GB to individuals and organisations that have made a significant contribution to road safety in the UK.
Lynda Chalker (now the Baroness Chalker of Wallasey), who was transport minister in the mid-1980s, presented LARSOA (now Road Safety GB) with a carriage clock to be used for the Award when she moved to a new post in overseas development.
Lynda Chalker Awards are not presented every year – only when it is deemed appropriate. Prior to this year, the last time an award was made was in 2012.
Ian Edwards has been a road safety professional since the early 1990s. His career includes spells as an approved driving instructor and as road safety manager for Kirklees Council.
He has been very involved in the EU Hermes project which looks at driver development at European level, and worked closely with the DVSA for a number of years to advise on driver training and testing within the UK.
When the Road Safety GB Academy came into being, Ian was instrumental in creating the National Standard for road safety practitioners. Following this, he wrote, developed and now helps deliver the widely acclaimed Road Safety Practitioners' Foundation Course. He has also developed the one-day Behavioural Change Course, and the Client Centred Learning Course for ADIs.
Graham Compton is a senior traffic management officer with Leicestershire Police. He began his uniformed career in 1963 as a cadet and has spent the last 18 years in traffic management (road safety).
Graham has played a key role in the development and implementation of a casualty reduction strategy for the Leicester, Leicestershire and Rutland Road Safety Partnership.
Graham considers partnership working as a key element of how to successfully tackle road safety; he is always willing to offer support and help develop, or share, road safety initiatives.
He has worked tirelessly over many years with a large number of partners to improve road design, keep road workers safe, promote and coordinate road safety projects, support neighbourhoods and community safety campaigns.
The Lynda Chalker Awards were presented by Honor Byford, chair of Road Safety GB, who said: "Ian and Graham richly deserve this recognition.
"Ian has been a great supporter of Road Safety GB for many years, and the training courses he has developed with the Academy management team are making a real contribution to up-skilling road safety practitioners and ADIs.
"While we all recognise the importance of partnership working, Graham Compton has put this into practice at a local level for many years. He richly deserves this award for many years of consistently excellent and enthusiastic service."