2018 Agenda - Speed Dating for road safety professionals
A series of quick fire presentations (5 mins) by road safety practitioners, backed by poster presentations, outlining schemes and interventions they have, or are currently, implementing. All presentations will relate to road safety education, enforcement or engineering and be backed by evaluation/evidence.
Confirmed presentations and speakers as of 27.6.18
---
The Warwickshire Way
Alison Williams
Senior Road Safety Officer
Warwickshire County Council
More...
---
2Wheels London (2WL)
Debbie Huckle
London Road Safety Council and Road Safety Officer for London Borough of Brent
& Jan James
Chief Executive Officer, Good Egg Safety
More...
---
Bikes, Big Trucks and You
Cheryl Evans
Senior Road Safety Officer
West Berkshire Council
More...
---
'Speak Out'
Vicky Harvey
Road Safety Team Leader
Kent County Council
More...
---
Cambs Drive iQ
Presenter TBC
Cambridgeshire & Peterborough Road Safety Partnership
More...
---
Get Your Coat
Steve Ferris

Agilysis (on behalf of Safer Roads Berkshire)
More...
---
We're keeping an eye on you
Dr Jeremy Leach
Principal Policy Advisor
Wealden District Council
More...
---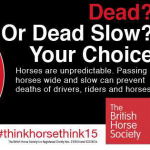 'Dead Slow' virtual reality film
Alan Hiscox
Director of Safety
British Horse Society
More...
---
Route Guard
Dan Campsell
Representing West Berkshire Council, Agilysis & Romex World
More...
---