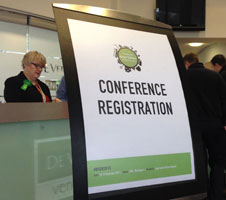 With the first 50 National Conference 'early bird' places snapped up in less than 48 hours, Road Safety GB has released a further 25 places at this very special rate for Road Safety GB and Academy members.
This batch will be the last available at the discounted rate of £195 plus VAT – once they have gone the members' price will increase to £295 plus VAT.
The 2016 National Road Safety Conference is being hosted by Road Safety GB South West Region and will be held at the Bristol Marriott Hotel City Centre on 15-16 November.
The organisers hope to build on the success of the 2015 conference and exhibition, held at the East Midlands Conference Centre in Nottingham. More than 300 people attended and 24 organisations participated in the exhibition which runs alongside the conference.
While the agenda is very much in its infancy, the conference committee has outlined some of the topics it intends to cover, and has confirmed that once again there will be a fringe programme running in tandem with the main agenda.
Themes under consideration for the main programme include:
• Road user psychology (Why do people use the roads in the ways that they do? How can we positively influence road user behaviour?);
• Public health & road safety (How can road safety managers/practitioners most effectively engage with colleagues in public health? Bringing together public health and road safety strategies. Addressing the (potential) road casualty implications of encouraging more people to cycle and walk);
• Social media and engagement
The early bird delegate fee for Road Safety GB and Academy members is £195 plus VAT which includes accommodation, all refreshments, the conference dinner and all conference.
The delegate fee for non-members is £395 plus VAT. There are also day delegate places available from £95 for members and £135 for non members (both prices plus VAT).
Click here to book a place at the conference.
The exhibition which runs alongside the conference is now also open for bookings. Prices have not increased from 2015 and start at £550 plus VAT. The exhibition will be restricted to around 20 stands and is once again expected to be fully subscribed (as has been the case for the past six years). Click here for more information or to book a stand at the exhibition.
For more information please contact Sally Bartrum (delegate registration and exhibition) or Nick Rawlings (agenda and speakers) on 01379 650112.