The conference team is currently planning the agenda and hopes to be in a position to publish an outline agenda during May 2017. Details of speakers and presentations will be added to this page as they are confirmed.

The agenda will include sessions focusing on:
The big picture (opening conference session)
A series of presentations from national road safety stakeholder organisations, outlining their priorities, campaigns and initiatives for 2018 and beyond. This session will include presentations by Road Safety GB, Road Safety Scotland and DVSA and others.
Public health, sustainability, active travel & road safety casualty reduction
• Partnership working, overcoming barriers, making the initial approach etc
• Sharing intelligence, data, resources, budgets, funding etc
• Encouraging more people to cycle and walk (for health and environmental benefits) while recognising the increased road casualty risk (and addressing this)
Behavioural Change Techniques (BCTs)
• What are BCTs?
• How can BCTs (practically) be deployed in road safety interventions?
• Case studies of interventions featuring BCTs (knowingly or unwittingly)
• Session to be organised & delivered by Ian Edwards & Alan Kennedy who will identify RSOs to also participate.
Driverless cars: a Utopian dream or road safety nightmare?
There will also be a 'Topical Topics' session, the ever-popular Question Time and a Fringe programme running in tandem with the main agenda.
'Pick my brains', which was successfully piloted at the 2016 conference, will be repeated this year.
The conference committee has issued a call for papers and is particularly interested to hear from road safety officers who would be interested in presenting practical examples of initiatives relating to the themes above. In the meantime for further information about the agenda please contact Nick Rawlings on 01379 650112.
---
Confirmed speakers (22.5.17)
Gareth Llewellyn
Chief Executive Officer, DVSA
Presentation: DVSA's strategy for the next 5 years (working title)
More…
---
Dr Rachel Aldred
Reader in Transport at the University of Westminster
Presentation: Why near misses matter: from research to policy and practice
More…
---
Dr James Woodcock
Senior Research Associate, Centre for Diet and Activity Research (CEDAR), University of Cambridge
Presentation: The Health Impacts of a Mode Shift to Walking and Cycling
More…
---
Dan Campsell
Marketing & Communications Director, Road Safety Analysis
Presentation: Distraction in road-safety interventions: challenging social norms without using 'fear appeal'
More…
---
Patrick Lingwood
Walking and cycling officer, Bedford Borough
Presentation: Turbo-roundabouts – promoting pedestrian and cyclist safety and comfort at busy urban roundabouts
More…
---
Glen Davies
Fleet Operator Recognition Scheme (FORS)
Presentation: RiSC – Reducing road risk in Supply Chains
More…
---
Iain Watson
Senior Road Safety Officer (Education), Suffolk County Council
Presentation: 'Braking Point' – focusing on the positives
More…
---
Dr Fiona Fylan
Brainbox Research
Presentation: Using behaviour change techniques: guidance for the road safety community
More…
---
Robin Wythe
Road Safety Officer, Telford & Wrekin Council
Presentation: Use of BCTs in a KS1 pedestrian intervention for Telford & Wrekin schools
More…
---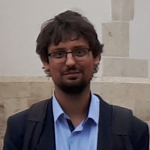 Félix Vandemeulebroek
Project Manager, Belgian Road Safety Institute (BRSI)
Presentation: European Road Safety Charter – our commitments saves lives
More…
---
Alan Hiscox
Director of Safety, British Horse Society (BHS)
Presentation: The Real Horse-Power
More…
---
Claire Postin
Sustainable Transport Manager, Transport for West Midland
Presentation: Bostin Bikes and Bostin Commuter: enabling bike ownership and increasing cycling
More…
---
Rebecca Needham
Research and Evaluation Officer, RoSPA
Presentation: Evaluation Webcasts (Working title)
More…
---