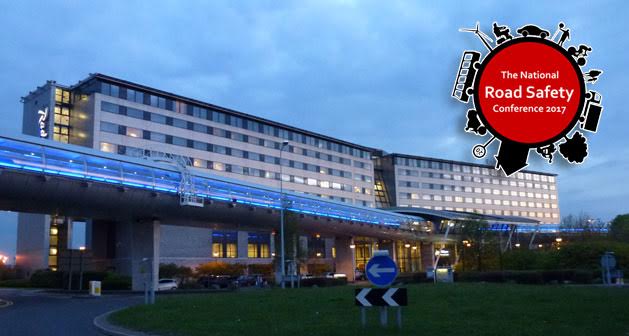 A record number of road safety professionals will attend the 2017 National Road Safety Conference in Manchester over the next two day (14-15 Nov).
The 2017 National Conference, Road Safety GB's flagship event, is being held at the Radisson Blu Hotel, Manchester Airport and is co-sponsored by Colas, Jenoptik Traffic Solutions and Insure The Box.
While the final number of attendees is yet to be confirmed, it has surpassed the 309 who attended in 2016, and is therefore a new record.
While much of the conference programme follows a similar format to previous years, 'The Big Debate' on the morning of Wednesday 15 November is a new initiative.
The debate will feature the writer and broadcaster Christian Wolmar, and Dan Phillips from the Royal College of Art who will discuss whether 'driverless cars' will be good or bad for road safety. The audience will be invited to register their views before and after, and the two polls will be compared to see if anything changed as a result of the debate.
Also new for 2017 is a third Fringe session in which academics Dr Rachel Aldred and Dr James Woodcock will facilitate a workshop-style session looking at 'what we know and don't know about cycling safety'.
In total the main conference and Fringe programmes comprise 39 presentations/sessions and 49 speakers/participants.
Running alongside the conference is a sold out exhibition featuring 24 organisations.
---
Follow the action
Throughout the two-day event, the Road Safety News editorial team will be reporting live from the conference hall, providing a series of soundbites and images across the following Road Safety GB platforms:
The event will be using the hashtag #RSGB2017 across social media.
Live reporting will start at around 1.15pm on Tuesday 14 November.
---